After working out and merchandising the Arduino OBD-II adapter, I was thinking of putting up some kits based on the adapter with which people can start playing Arduino with cars more easily. A useful application as my initial approach is a OBD-II data logger device which reads out sensor data from vehicle and records the data on mass storage (e.g. SD card). Besides data logging, it better also displays some realtime data and states on a screen. The logged data also needs something to illustrate, possibly into a chart. All these thoughts brought up the Arduino OBD-II data logger kit and this website.
The logger displays (on a 128×64 OLED display module) and records (to a SD card) selected OBD-II data (engine RPM, speed etc.). The bright monochrome OLED display has very good visibility in daylight regardless of its small size. You can place it anyway on your dashboard that you feel comfortable. By pulling out the SD and inserting into computer (with a SD reader or a built-in one),  the data can be easily illustrated into a chart.
UPDATE: A more advanced kit based on Arduino MEGA 2560 and TFT LCD is also available!
Objectives:
Displaying realtime engine RPM and vehicle speed on OLED screen
Recording realtime OBD-II data to SD card in text-based CSV file format
Illustrating the recorded data in as chart
Software fully open-source so that people can easily modify the way the device works
Parts Used:
Arduino Nano (main controller)
Arduino OBD-II adapter (for retrieving data from vehicle)
SD breakout board (for storing data to SD card)
OLED display module (for displaying data, the logger will work either with or without it)
Recorded data includes:
Engine RPM
Speed
Throttle position
Engine load
Engine coolant temperature
Intake manifold absolute pressure
Intake temperature
Of course any data that can be obtained from OBD-II can be recorded. For more information about file format definition and source code, please refer to this page.
Pictures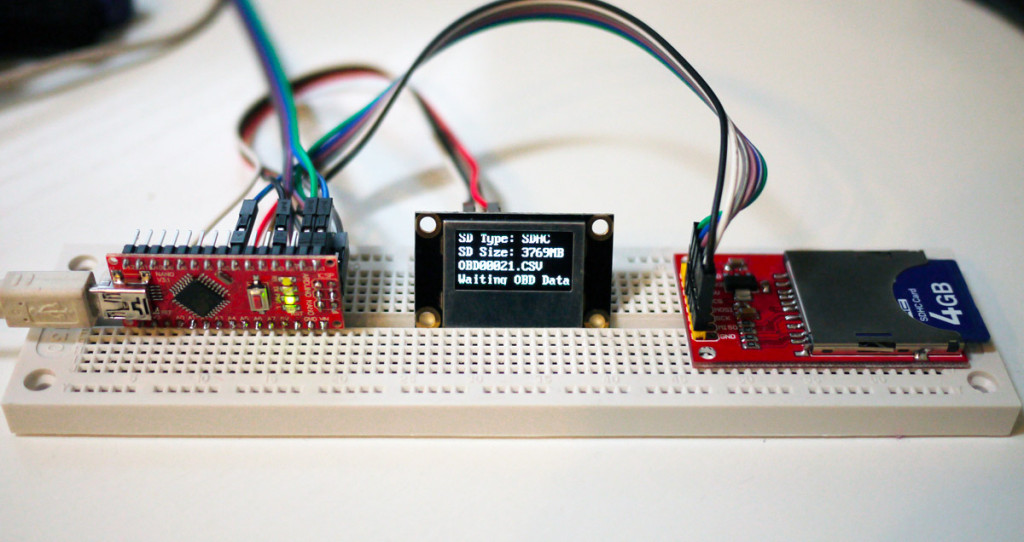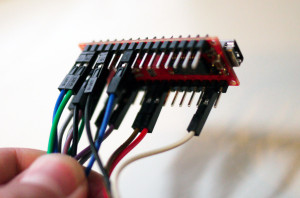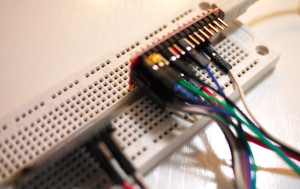 Kit with Arduino Nano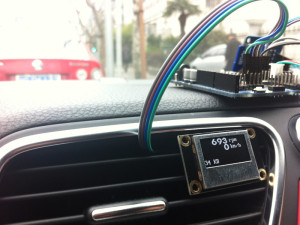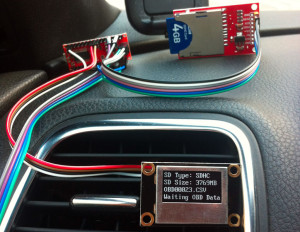 Kit in car
Wiring Up
All the parts can be connected with wires as following diagram and no soldering is needed. For more detailed description about wiring, please refer to this page.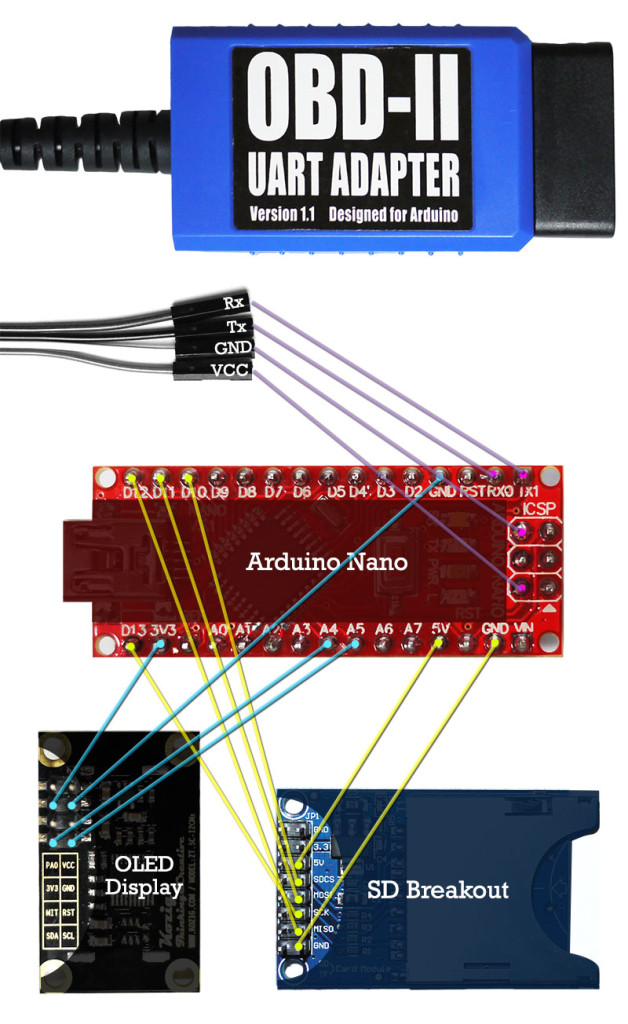 Discussion
Kit for Order
If you like this open-source Arduino OBD-II logger kit, you can order it now. The kit consists of:
Arduino Leonardo / Arduino Nano (x1)
SD breakout board (SDHC compatible, SD card not included) (x1)
I2C OLED display module (128×64 pixels) (x1)
Wires needed for connecting all parts (x10)
Complete source code (sketch & libraries)

The complete source code will be provided so you can freely modify it to change or add features you need (e.g. changing the display or logging other data you need).
To order this kit, please click HERE.